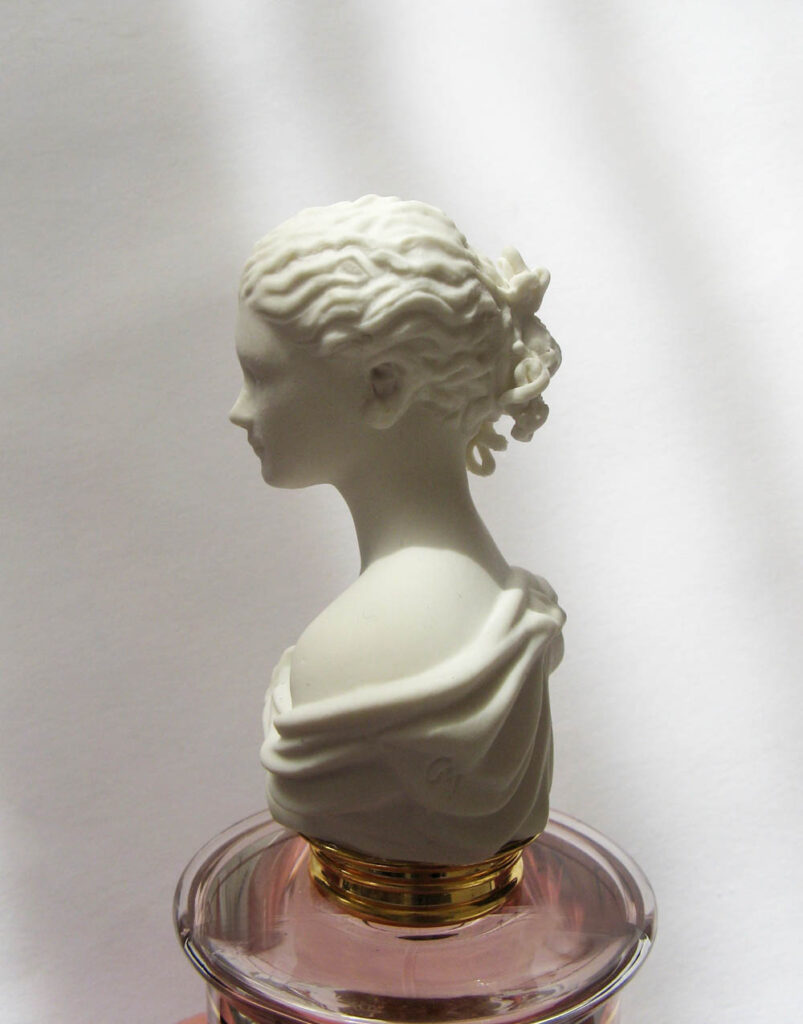 Behind the MDCI name is an art lover with a passion for perfumes and a certain idea of what fine fragrances should be, an art more than an industry, a source of pleasure, pride and beauty more than a commodity.
The independant House of Parfums M;DCI ("MDCI" stands for Marchal Dessins et Créations Indépendantes") founded in 2003, is reviving the French tradition of the Art of Perfum and creates rare and original perfumes, presented in bottles of unique and unequalled aesthetic taste, in collaboration with perfumers chosen for their talent.
Its work has been followed since the very beginning by discerning collectors and connoisseurs; its flacons are in many private collections and several museums.
Its fragrances are recognized in their own right for their beauty, originality and elegance, and are now worn worldwide.
This was a totally original vision, both classic and innovative at the same time.
Classic, for it was the Classical Age, the Italian Renaissance, seventeenth century France, the great voyages of discovery, which were the points of reference guiding the brand creatror's work.
Innovative, for the idea of offering something so contrary to the mass-produced minimalism prevailing today- small sculptures inspired by the Renaissance or the Ancient World, posed elegantly on a very refined cylindrical plinth that doubles as a bottle.
Nothing coarse here, no modish clichés. On the contrary the aesthetic principle is the total reverse of today's general minimalism, which too often merely serves to hide a deep creative poverty.
Luxurious: individually made, every bottle of MDCI perfume crosses the desk, or rather the workbench of the brand creator himself, deliberately limiting production to a few thousand pieces per year.
Each bottle is thus entirely the product of crafstmanship, particularly with regard to the sculpted busts used as stoppers.
About the sculpted stoppers, it is a fascinating period of history, a pivotal times which has guided his inspiration: the Renaissance, the admirable traces of which – old buildings, sculptures, fountains, gardens – are as many stages in his preferred walks through Paris, from the old Marais district to the Louvre and the Gardens of the Luxembourg, the beautiful palace built for Catherine of Medicis in the 1600's…
Inspiration also came in " Galerie d'Apollon " in the Louvre Museum, in Florence at the Musei dei Uffizzi, in the fabulous Schatzkammer in Vienna (the Treasure Room), at the sight of the extraordinary gold and rock-crystal vases, the Greek and Roman antiques in the collections of the Medicis, Cardinal Mazzarin's and Louis XIV's, the Sun King…
Why not draw from these incredible objects, of an unmatched luxury, passionately collected by the kings and princes of the French and Italian Renaissance, and create a modern evocation of these pieces of ultimate beauty and preciosity ?
This is how the MDCI flacons were born…